INTRODUCTION

According to the IRS (India Risk Survey) more than 700 cases have been registered on fire outbreaks in 2019, out of which more than 80% of the cases are due to Electric short circuit. This is not only a risk for people and property but also affects the business flow and operation.

Now the questions that arise are:
Whether the fire outbreak be prevented?
Can the existing installation give adequate protection against cause of fire?
The initial phase before the fire outbreak is generation of ARC in the circuits which goes unnoticed because the protection devices installed/available are not designed to capture these ARCs coming in the circuits.
Here the need for a product arises which can detect the ARCs and prevent major electric failure which may lead to fire especially in the single phase application.
WHAT IS ARC?

An Arc is luminous discharge of electricity across an insulating medium, usually accompanied by the partial volatilization of the electrodes.
An ARC is persistent in nature which
Brings in change in Voltage and Current pattern – that develops high frequency pattern in the sinusoidal waveform
Develops hot spot (change in thermal effects)
SITUATIONS THAT TRIGGERS ARC
| | |
| --- | --- |
| Defective (Lose) termination | Damaged Plugs |
| All kinds of mechanical overstraining | Damaged Cables |
| Aged/damaged insulation | Rodent Bites |
TYPES OF ARCS AND BEHAVIOUR OF STANDARD PRODUCTS
APPLICABLE STANDARD:
AFDD+ complies to IEC 62606 standards.
WHY AFDD+?
Eaton's AFDD+ is the industry's first protection device that provides three levels of protection in one device without compromising on basic protections.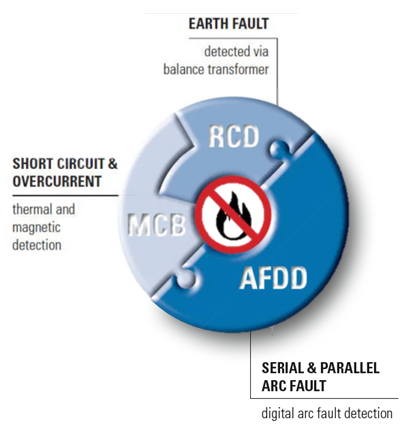 COMPETITIVE ADVANTAGES:
All-in-One Protection (MCB+RCD+AFDD)
Widest range for selection
(in terms of current range, characteristics, breaking capacity, sensitivity and types)
Clear identification of all faults
Provides the last fault history
Avoid nuisance tripping
Cross-talk test
clear differentiation between Arc & spark)
The evolution of protection EATON AFDD+ is not simply a development of devices that already exist. It is the next step in the evolution of protection devices, incorporating the benefits of digitalization.

HOW DOES AFDD+ WORK?

Arc formed is always persistent and it induces change voltage pattern, current pattern and thermal effect in the wire/cable.
When an arc fault occurs, it has unique and readily identifiable characteristics.
These are:
High-frequency disturbances within the fault current
A breakdown of the fault current, close to the zero-crossing of the driving voltage
AFDD+ applies an algorithm with its embedded integrated electronic circuit and uses these changes in electrical characteristics to ensure sensitive detection of arc fault currents, combined with avoidance of nuisance tripping.
AVOIDING ARC FAULT MASKING
Power line communication can cause intense signals that mask the disturbances generated by arc faults. The EATON AFDD+ has been developed to ensure this does not interfere with its detection capability.
AFDD+ is also tested with "Cross Talk Test" which is a test conducted according to IEC 62606:2013. This test is conducted by a disturbance caused by electromagnetic interference, along with a circuit or a cable pair.
A telecommunication signal disrupts a signal in an adjacent circuit and can cause the signals to become confused and cross over each other. Only the right AFDD shall trip (not the neighboring device)
EATON AFDD+ RANGE
Rating: 10A to 40A
MCB + RCCB + AFDD
B & C Curve
Pole: 2P
Breaking capacity: 10kA upto 25A and 6kA for 32A, 40A
Sensitivity: 10mA (10A-25A) and 30mA
Type: A and AC
INDICATION OF FAULTS:
AFDD+ is an ALL-IN-ONE Device not only indicates all the faults but also gives last fault history.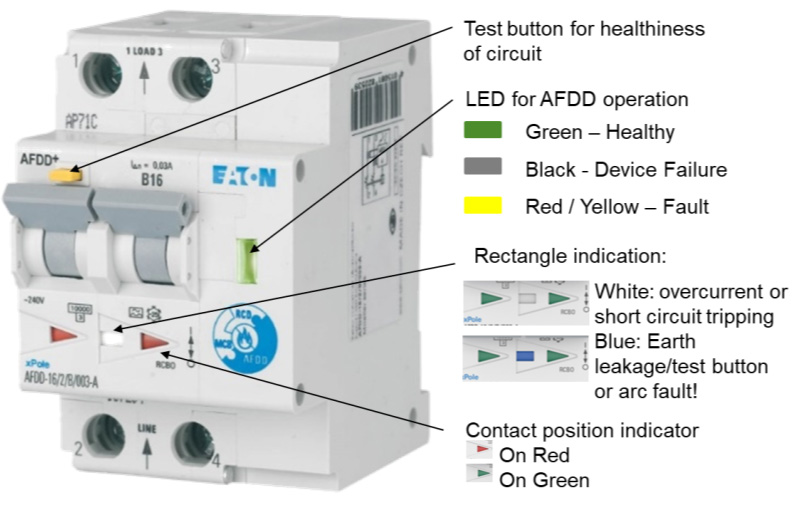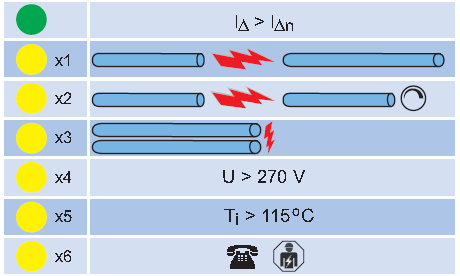 Green, no arc fault occurred
1x yellow, serial arc fault
2x yellow, serial arc fault of dimmed load
3x yellow, parallel arc fault
4x yellow, overload > 270V
5x yellow, over temperature in device >115°C
6x yellow, device failure, testing required
CONCLUSION
For complete protection against the electrical hazards one should select the right product which offers protection from basic to advance protection (AFDD+) to ensure the continuity of the system with utmost safety.